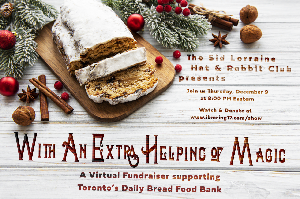 With An Extra Helping Of Magic
The Hat & Rabbit Club Still Needs Your Help.
Thank you!
Our show was a huge success, but we stil need your help and you can still access a fun magic show online for FREE!
The show is still online!
It's free and can be watched at: https://bit.ly/3m1rOom
All we ask is that you consider contributing a few dollars towards our goal and help make hunger in the GTA disappear!
Although a sense of normalcy is slowly returning to our city, for the tens of thousands of individuals living in poverty, the reality is very different.
This year, there were close to 1.45 million food bank visits in Toronto, the highest number ever recorded in the city's history.
With food bank visits reaching unprecedented levels, it's more important than ever to ensure everyone's right to food is realized.
That's why we're holding a fundraiser to support Daily Bread Food Bank. And that's why we need your help.
Click the "DONATE NOW" button to make a gift to Daily Bread and help ensure our neighbours can continue to access fresh, nutritious food – in 2021 and beyond.
Thank you in advance for your generous support!
For more info about the Hat and Rabbit Club head to: www.ibmring17.com
View More

David Peck
$0

Achievements

City Champions
Reached a fundraising milestone
Honour Roll
Ian Crawford and Martha Gooderham
$100
Peter and Nora Adamson
$200
Toronto Magic Company
$200
Top Donors
Magicana
Ian telfer
Anonymous
The Peck Family
Toronto Magic Company