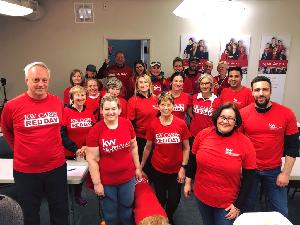 Keller Williams Neighbourhood Realty RED DAY 2020
This is KWNR RED DAY COVID STYLE FOOD DRIVE!
Red Day - MAY 14, 2020
Now more than ever, Daily Bread Food Bank needs your help.
After they've paid for housing, the average food bank client has $7.83 per left per day to cover all other expenses – including food – making it impossible for them to stock the recommended supply of provisions for their family.
Your gift will help Daily Bread provide uninterrupted service and access to food to the most vulnerable members of our community during the COVID-19 pandemic. The need has grown exponentially in the past 7 weeks.
Tax receipts will be automatically issued for donations of $10 or more. We are also collecting food donations directly from your front porches on May 13 & 14!
Thank you in advance for your generous support.
#stayhome #savelives #thankyou Sending you lots of love from the KWNR family - Keller Williams Neighbourhood Realty
View More

Achievements

City Champions
Reached a fundraising milestone
Honour Roll
In Memory of Vijaya Niranjan
$50
Mark and Lindsay Ferris
$50
Paul and Erin Loughnane
$50
Top Donors
Gardner Law Firm
Anonymous
Rich and Anne Kinch
Anonymous
Matt