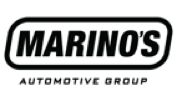 Marino's Holiday Food Drive
Help us make a difference in our community this year! Marino's Automotive Group will make an initial donation of $500 and match every employee donation up to $10 that is donated as part of our campaign!
Your generosity makes a difference! The Daily Bread Food Bank has received over 900,000 visits in 2017 already. Every dollar you donate helps Daily Bread provide one meal to a neighbour in need, and advocate for change to lift families out of poverty.
Tax receipts are automatically issued for donations of $10 or more.
View More

Achievements
No Badges Have Been Earned