Thu 18 Oct 2018 09:43:47 PM CDT: This site is about to be upgraded to a new software release. During this upgrade you may experience interruptions or delays when entering information. We apologize for any inconvenience this may cause and thank you for your patience during this required update.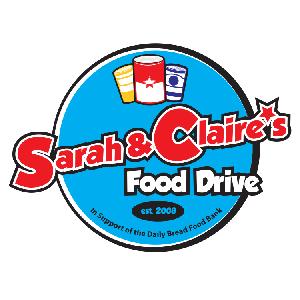 Sarah and Claire's Food Drive
Hello!

Sarah and Claire's 11th Annual Food Drive is looking for your support!
We are the largest community based food drive that supports Daily Bread Food Bank. To date, we have raised over 400,000 pounds of food and funds for Daily Bread.
We are powered by youth and their desire to make a difference in their community.
Check out our website at www.sarahandclairesfooddrive.com
Please think about making a donation...every dollar counts!
Every dollar you donate helps Daily Bread provide one meal to a neighbour in need, and advocate for change to lift families out of poverty.
Tax receipts are automatically issued for donations of $10 or more.
We really appreciate your support!
Sarah and Claire
View More

Event Honour Roll
Bosley Real Estate Ltd.
$500
Heaps Estrin Team Ltd.
$250
Patrick Rocca, Bosley real estate
$250
Leaside Orthodontic Centre
Stephanie and Nicole Scala
$100
Corwin, Glynnis, and Wilmar
$100
The Breier-Faier Family
$100
Humphrey Funeral Home
$100
Kiara & Khloe Parhar
$100
Evan, William and Julia
$75
Derek and Inge Jordan
$50
Jacob and Lucas Wagland
$50
Bridget & Zachary Leonard
$50
Angelo, Dorothy, Daniel and Alyssa De Bono
$50
Leah Kanary , Nicholas & Henry Szebeny
$25
The McCullough family
$25
Top Donors
The O'Brien family
Lexus on the Park
Anonymous
Sarah Stevens
Bosley Real Estate Ltd.