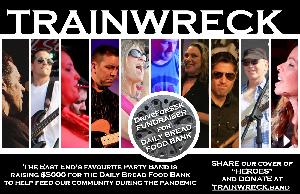 TRAINWRECK DriveFor$5K Fundraiser
Hey East End Toronto, TRAINWRECK misses you!
We've recorded this cover of David Bowie's "HEROES" to thank everyone in our community who has acted with courage and compassion during the covid-19 pandemic.
Until we meet again on a stage near you, please share our video and help us raise $5000 for the Daily Bread Food Bank.
This amazing organization needs our support, now more than ever. Some have called this pandemic "the great equalizer" but it hasn't affected all of us equally. The most vulnerable members of our community are suffering disproportionately, and may not even be able to feed their families.
Your donation - no matter how small - will help, and you'll automatically get a tax receipt if you give $10 or more.
Thanks in advance for your generous support, and we'll see you on the other side!
Your friendly neighbourhood band,
TRAINWRECK
(Rick, Steph, Pete, Robin, Mark, Don, Tait, Karen, Victoria and Ali)
www.trainwreck.band
View More

Achievements

City Champions
Reached a fundraising milestone
Honour Roll
Chris Biagini Family
$100
Christy, Sara and Sam
$50
Jacqueline and Family
$100
Jim & Marianne Donaldson
$50
Sean & MaryAnn Dalzell
$100
Top Donors
Rick Lynn Sala
Diane Labatt
Julie & John
Hilary & Peter Gray
Knight Family