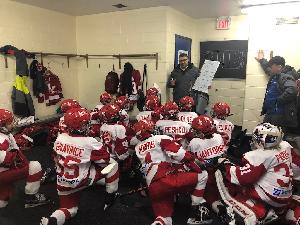 "Toronto Eagles 09 A" Fly Across Canada Fundraiser
The Toronto Eagles 2009 "A" team is walking across Canada
to raise funds for the Daily Bread Food Bank!
Starting mid-January 2021, our Toronto Eagles 2009 "A" teammates, coaches and family members will join together to walk a combined 8414km ... the east to west distance across Canada... to help raise funds for the Daily Bread Food Bank. This is our chance to do something "together but apart", support an excellent cause AND get our feet moving!
We're starting in Cape Spear NL and walking all the way to Beaver Creek, YT
on the Alaskan Border!
Prior to COVID-19, there were an average of 15,000 weekly visits to Daily Bread member food banks. By the end of August, this had climbed to nearly 25,000. As Covid-19 continues to make things difficult for our city, this number continues to rise.

Did you know that after they've paid for housing, the average food bank client has $7.83 left per day? That's $7.83 to cover all other expenses – including food – making it impossible for them to stock the recommended supply of provisions for their family.

Click the "DONATE NOW" button to make a gift to Daily Bread and help ensure our neighbours can access fresh, nutritious food - this holiday season and beyond.

Tax receipts will be automatically issued for donations of $10 or more.

Thank you in advance for your generous support. Go Eagles Go!
View More

Achievements

City Champions
Reached a fundraising milestone
Honour Roll
Bubba and Grandma Deshmukh
$100
Bubbie and Papa Clive
$100
in memory of David Ireson
$20
Maureen & Don Richardson
$50
Nanny & Poppy Philpott
$50
Pat and Shelby Murphy
$25
Top Donors
Iantorno family
Anna Fierro
Lynch family
The Stuart Family
J Richard Flynn