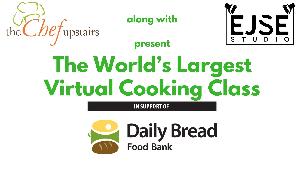 World's Largest Virtual Cooking Class
Make HISTORY with your family and help us set the world record for the largest virtual cooking class! This Family Day, join Chef Julian Pancer of The Chef Upstairs and learn to make homemade gnocchi and tomato sauce while supporting Daily Bread Food Bank. Cook with family, friends, neighbours and foodies from around the world as we attempt to set the record for the largest virtual cooking class, have fun and best of all, support a great cause. Hosted by our friends at EJSE.
Details including set up sheet, recipes and Zoom link will be sent via email after registration.
Now more than ever, we need your help.
After they've paid for housing, the average food bank client has $7.83 per left per day to cover all other expenses – including food – making it impossible for them to stock the recommended supply of provisions for their family.
Your gift will help Daily Bread provide uninterrupted service and access to food to the most vulnerable members of our community during the COVID-19 pandemic.
Tax receipts will be automatically issued for donations of $10 or more.
Thank you in advance for your generous support.
View More

Achievements

City Champions
Reached a fundraising milestone
Honour Roll
Andrew and Claire Papierz
$100
Baby Jesus 2021 Caledon East
$100
Barbara Titherington
$100
Barry & Jennifer Doctor
$100
Danilo & Luciana Simonelli
G Brown & J Kirkwood
$500
Heather and Paul Paterson
$50
In memory of Kanaiya Gandhi
$100
Karen Yarmol-Franko & Ivan Franko
$100
Katherine Robb Corlett
$100
Lee-Anne & Michael P
$100
Lori Heller/Heller Productions
$1,000
Mathur & Prasad Families
$100
Michelle and Marco Camacho
$500
Ms. daniela marciano
$100
Oliver von Konigslow
$100
Scholars Education (Leaside)
$200
Shawn, Angela,Katharine
$60
Smucker Foods of Canada
$50
The Waterdown Woodleys
$100
WSIB Mental Stress Injury Team
$395
Top Donors
Brian Borst
Meiers Family
The Chef Upstairs
Lori Heller/Heller Productions
Michelle and Marco Camacho