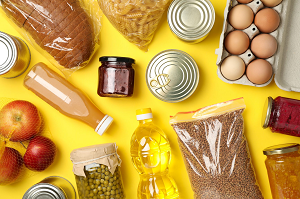 OPS Fall Food Drive 2021
Now more than ever, we need your help.
Since January 2021, Daily Bread's network has seen an average of 110,000 client visits per month, compared to 68,000 per month in 2019. If current usage rates continue, it is projected that Toronto food banks will see 1.4 million visits in 2021, the highest number ever recorded in the city's history.

As food bank use continues to rise, it's more important than ever to ensure everyone's right to food is realized.

That's why we're holding a fundraiser to support Daily Bread Food Bank. And that's why we need your help.

Did you know that after they've paid for housing, the average food bank client has $7.83 left per day? That's $7.83 to cover all other expenses – including food – making it impossible for them to stock the recommended supply of provisions for their family.
Click the "DONATE NOW" button to make a gift to Daily Bread and help ensure our neighbours can continue to access fresh, nutritious food – in 2021 and beyond.

Thank you in advance for your generous support.
View More

Event Honour Roll
Chartered Accountants of the OPS
$500
Ms. Fredrika Lynn Scarth
$100
Mr. Adrienne De Francesco
Violet van Wassenaer
$100
Mrs. Sylvie Tremblay
$100
In memory of Gordon Peffer
$100
Ajax-Pickering Probation & Parole
Apprenticeship Operations
$50
Mrs. Geneviève Blanchet-Frost
$50
Office of the Fairness Commissioner
$50
Top Donors
Manish Agarwal
Rik MacLean
Anonymous
Anonymous
Elaine M Atkinson