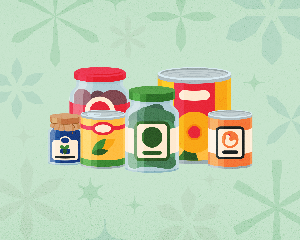 2022 Steam Whislte Holiday Food Drive
HELP SPREAD CHEER THIS HOLIDAY SEASON 2022!
As the holiday season is approaching there are many people living in a state of crisis in the city. "Last year there were 1.45 million food bank visits in Toronto, the highest number ever recorded in the city's history."
This year, our Good Beer Folks are partnering with the Daily Bread Food Bank from now to mid-December to tackle food insecurity. The Daily Bread Food Bank has seen a 5% increase compared to previous years. Roughly 85% of their clients report not having enough food. We know insufficient income, precarious employment, and unaffordable housing are the primary barriers to people achieving the right to food. With food bank visits reaching unprecedented levels, it's more important than ever to ensure everyone's right to food is recognized.
Here's how you can help:
ON-SITE DONATIONS
We are accepting food donations at the Steam Whistle Brewery located at 255 Bremner Blvd.

As all donated food is appreciated, the following food items are most needed at this time:
Baby food and formula

Peanut butter
Canned fish and meat
Canned fruits and vegetables
Rice, grains, lentils, beans
Dried pasta
Pasta sauce and canned tomatoes (whole or crushed)
Cans of soup and stew
Powdered, canned and tetra pak milk
Steam Whistle's Taproom and Biergarten, donate $20 directly to the Daily Bread Food Bank and receive a free bottle of Steam Whistle.
HOME DELIVERY DONATION
10% of proceeds of Home Delivered Steam Whistle Bottle sales from December 6th - December 21st will be donated to the the Daily Bread Food Bank. Please visit our website to order
MONETARY DONATIONS
Click the "DONATE NOW" button to make a gift to Daily Bread and help ensure our neighbours can continue to access food in 2023.
Thank you in advance for your generous support!
Happy Holidays!
From the GBF's
View More

Achievements
No Badges Have Been Earned