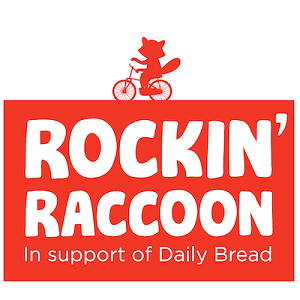 Rockin' Raccoon
Don't want to ride but still want to help Rockin' Raccoon raise funds for Daily Bread? Donate directly as part of our efforts!
Access to food is a basic human right, no one should go hungry or face barriers to accessing food, and that's why your donation is so important! By supporting Daily Bread Food Bank and the Rockin' Raccoon Ride, you are making a difference in the lives of thousands of Torontonians experiencing food insecurity.


The only gift too small is no gift at all. Your donation, no matter the size, will make a big impact. Every $1 provides 1 wholesome, nutritious meal.
We'll miss you on the ride but are grateful for your support! Thank you!
View More

Holly Clarke
$0

Achievements

City Leaders!
We reached a fundraising milestone